Upper Mustang Jeep tour in Nepal
Off road driving upper mustang jeep tour is an exclusive adventure of a lifetime. Upper mustang 4wd jeep tour is the safest and most comfortable way to travel around the last forbidden kingdom in Nepal. Key attractions in the course of the jeep tour to upper mustang are history, tradition, culture and diverse nature etc. Upper mustang featured in national geographic channel as well as it listed on the waiting list of world heritage site of UNESCO.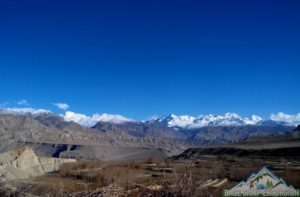 After that its popularity and the number of visitors increasing day by day.
Main highlights from lower to upper mustang are very. Among of them ancient caves, monasteries, typical villages, Muktinath temple, authentic Tibetan culture, historical place, spiritual, historical and archaeological heritage etc. Tiji festival in walled city of lo Manthang is the most important festival of local people. Upper mustang jeep tour takes you to the rain shadow region of mustang, its capital city Lomanthang, Kora la "penal Tibet" border of mysterious hidden world.
the highlights of the Upper Mustang Jeep tour is visiting the ancient walled city of Lo Manthang, which was the capital of the Kingdom of Lo. The city is a labyrinth of narrow alleys, white-washed houses, and ancient palaces, and is home to several monasteries and temples that are steeped in history and culture. Other attractions of the Upper Mustang Jeep tour include visiting the ancient monasteries of Ghar Gompa, Luri Gompa, and Tsarang Gompa, which are architectural marvels and are considered among the finest examples of Tibetan Buddhist art and architecture in Nepal.
Feeling excited about the jeep tour to upper mustang? If so, you must visit this place between the months of April to November. This part of the year, featuring a relatively hotter day and comfortably cooler nights. It is the perfect time to visit mustang, as the weather and road conditions stays perfect for the trip.
Upper mustang jeep tour specially designed to assist the sightseer to visit this area. Journey from Jomsom to Upper Mustang is an adventure in itself, as the road is unpaved, bumpy, and windy, passing through steep canyons, rugged cliffs, and arid landscapes. Jeep tours offer a comfortable and faster way to explore Upper Mustang, allowing travelers to cover a lot of ground and visit several attractions in a short period.
This is the best way to explore the history of the place, the mesmerizing scenic beauty of the Himalayas. Upper mustang area connected by grounded transportation after road construction no need to walk on dusty trail. Road and tea houses on route made easy and cheap to visit upper mustang Nepal. Read detail information about upper mustang tour a wonderful adventure holiday in Nepal.
Upper Mustang Jeep tour in Nepal itinerary
Day 01: Arrival day in Kathmandu.
Day 02:  Permit preparation day
Day 03: Drive from Kathmandu to Pokhara by car / jeep/flight
Day 04: Drive from Pokhara to Tatopani enjoy natural hot spring
Day 05: Drive to Kagbeni via Deepest gorge in the world
Day 06: Drive to Ghiling via Sammar & Syangboche village
Day 07: Drive to Tsarang after exploring Dhakmar
Day 08: Drive to Lo Manthang via Sungda chorten and Lo la
Day 09: Drive to Kora la (Nepal Tibet border) back to Chhoser & Lo Manthang
Day 10: Drive to Syangboche visit Chungsi cave by walking
Day 11: Drive to Marpha with sightseeing in Muktinath
Day 12: Drive to Pokhara
Day 13: Pokhara to Kathmandu by flight or drive
Day 14: Airport transfer to depart Nepal
Upper mustang luxury tour package cost US$:
Services included on Upper mustang tour package
# Airports pick up on your arrival day by private vehicle
# All transportation Kathmandu to Kathmandu by luxurious jeep
# Two nights hotel accommodation in Pokhara BB basic
# All meals (Breakfast, Lunch & dinner) 4 cups of hot drink each day on choice
# Best accommodation at tea houses during tour
# Professional English speaking guide service trained by government of Nepal
# All necessary paperwork, special permits (ACAP, TIMS) and local taxes
# Airport transfer by private vehicle to depart Kathmandu, Nepal
Service exclude Upper mustang overland tour
* Visa fees / international airfare to and from Kathmandu
* Lunch and dinner in Kathmandu
* Personal expenses phone calls, mineral water, bar bills, hot shower, battery recharge, extra porters & gears etc
* Tips for guides, drivers (Tipping are expected but not mandatory)
The Upper Mustang Jeep tour is a breathtaking adventure to witness traditional Tibetan culture and the beautiful landscapes of remote area in Himalayas. During this journey one can visit the ancient city of Lo Manthang, the former capital of the Mustang kingdom that hold great cultural and historical significance.
The high altitude deserts, barren landscapes, high cliffs and unique rock formations will give you a sense of being in a different world. Upper Mustang Jeep tour is an unforgettable experience that combines adventure, culture, and scenic beauty. this trip is ideal for anyone seeking to explore the hidden gems of Nepal. Upper Mustang Jeep tour is a once-in-a-lifetime opportunity to experience the beauty and mystery of this hidden kingdom of Nepal.
Upper Mustang Jeep tour is a once-in-a-lifetime experience that allows you to explore one of the most remote and culturally rich regions in Nepal in comfort and style. The tour offers a perfect balance between adventure, culture, and luxury, and is suitable for travelers of all ages and physical fitness levels. With its unique landscapes, ancient monasteries, and rich cultural heritage, Upper Mustang is truly a hidden gem that should not be missed.
This information may helps you explore vivid mountains, striking landscape, rich Buddhist cultural heritage, caves and more. If you need more info or interested to book private or group joining upper mustang tour in Nepal write us.